Easy-To-Cook Christmas Recipes For Your Family
Christmas celebrations, especially the preparation part can become a bit nerve-racking, agree? There's prepping the home up for holiday decorations, Christmas shopping (!!!), wrapping up tons of presents (with style and flair), and finally, the daunting task of planning the dinner menu. Do we do the whole turkey thing like what we did last Thanksgiving? How about a ham, like on Easter? Do I go with something new and different altogether? Well, if you ask us, whatever you make has to be sumptuous with a bunch of festive hearty sides to go with it. I mean, what's Christmas without a family-pleasing meal worth the celebration?
Ladies and gents, the pressure is real-- but we're here to help you out! Here are ten easy-to-cook Christmas recipes to make this year's intimate dinner as TASTY as possible!
Beef Tenderloin with Roasted Cauliflower
Try this juicy beef tenderloin brightened by a tangy cauliflower salad, and satisfy the whole fambam this Christmas!
What You'll Need:
1 whole filet of beef

6 tbsp. olive oil

2 tsp. Kosher salt

1 tsp. Freshly ground pepper

1 head cauliflower

5 large shallots

2 tbsp. fresh lemon juice

2 tsp. whole-grain Dijon mustard

1 package baby kale

1/2 c. pomegranate seeds
Directions:
Turn your oven heat to 475 degrees F. Place your beef on a large rimmed baking sheet and rub one tablespoon olive oil, salt, and pepper. Bake at 475 degrees F for 12 minutes.

Toss two tablespoons of olive oil with cauliflower and shallots and season it with salt and pepper. Scatter the vegetables around the beef and bake it for 18 minutes more or until the meat reached the desired degree of doneness.

Remove beef from the pan and cover it with a foil, letting it stand for 15 minutes. Whisk the remaining olive oil, lemon juice, and mustard and season it with salt and pepper. Stir the kale into the hot pan with veggies. Drizzle the olive oil mixture and sprinkle the pomegranate seeds. Serve the beef sliced with the cauliflower salad.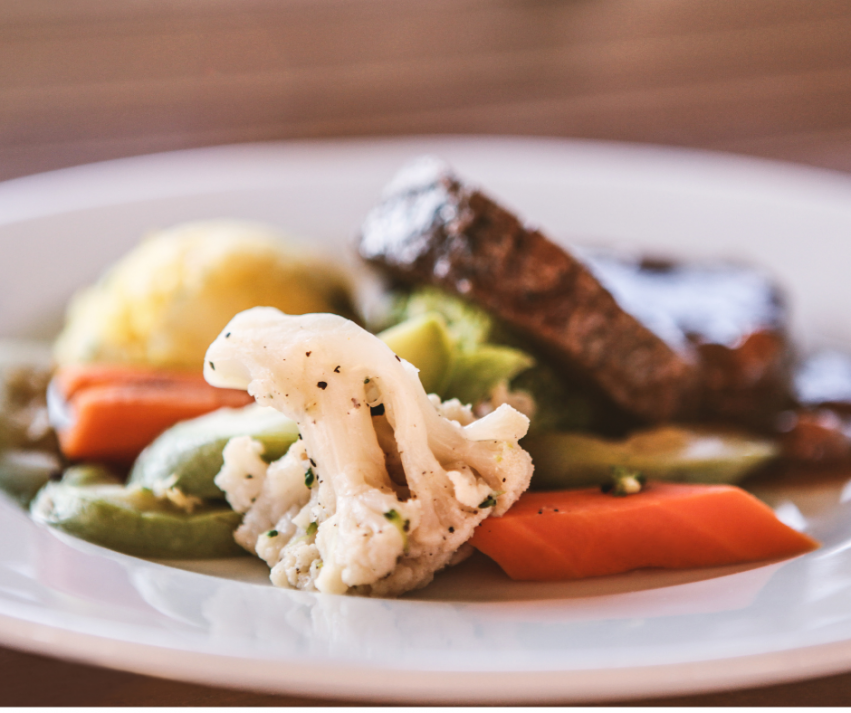 Apricot Pork Loin
A meaty dish is always a winner, and this fruity pork loin dish will surely be a refreshing change to a rather boring holiday menu!
What You'll Need:
11 oz. dried apricots

1 pork loin

6 clove garlic

2 1/2 tbsp. fresh chopped rosemary

1 1/2 c. low-sodium fat-free chicken broth

salt

Freshly ground pepper
Directions:
Bring apricots and 1/2 cup water to a boil over medium-high heat. Remove from heat and let sit until the water is absorbed. Cut a 1 1/2-inch-wide slit through the center of your pork loin lengthwise. Insert a wooden spoon handle to widen the opening. Mix your apricots, half of the garlic, and 1/4 teaspoon of salt, and pack the mixture into the opening of the pork loin.

Tie the pork loin at 1 1/2-inch interval with 10- to 12-inch lengths of kitchen twine. Preheat oven to 325 degrees F. Grind together chopped rosemary, 3/4 teaspoon salt, and one teaspoon pepper to a coarse rub. Mix in remaining garlic and rub all over the pork loin.

Roast your pork loin in a medium roasting pan fitted with a rack for 45 minutes. Remove the pork from the oven and pour the broth over the pork loin. Return to the oven and continue roasting, basting every 15 minutes, until the meat's internal temperature reaches 150 degrees F, up to 1 more hour. Let the pork loin rest on a wire rack for 20 minutes before slicing. Use pork juices as gravy.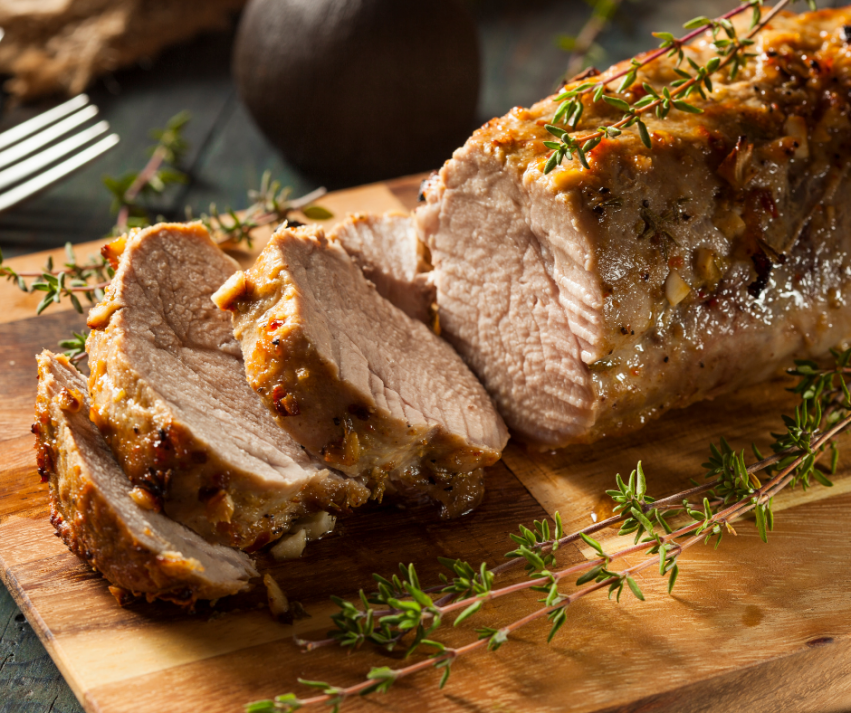 Deep-Fried Turkey
Still can't get over your mood for Turkey? Bring in the bird for your Christmas dinner and serve it the Southern way-- nice and crispy!
What You'll Need:
1 1/2 tbsp. Kosher salt

1 1/2 tbsp. smoked paprika

1 1/2 tsp. garlic powder

1 1/2 tsp. onion powder

1 1/2 tsp. fresh ground pepper

1 1/4 tsp. cayenne pepper

1 whole fresh turkey

Peanut oil (about 3 gallons)
Directions:
Stir together the first six ingredients. Remove giblets and neck from turkey, and discard. Pat the entire turkey with paper towels and loosen the turkey skin with your fingers. Generously spread the seasoning under the skin without totally detaching skin. Sprinkle and rub the remaining seasoning inside the cavity and on the outside of the turkey. Let turkey stand at room temperature while oil heats.

Pour oil into a deep turkey fryer 10 to 12 inches from the top; heat to 350 degrees F over a medium-low flame. Place turkey on fryer rod and carefully and slowly lower the turkey into hot oil with rod attachment. Fry 35 to 45 minutes or until a meat thermometer inserted in the thickest portion of thigh registers 165 degrees F. Remove turkey from oil; drain and let stand 25 minutes before slicing.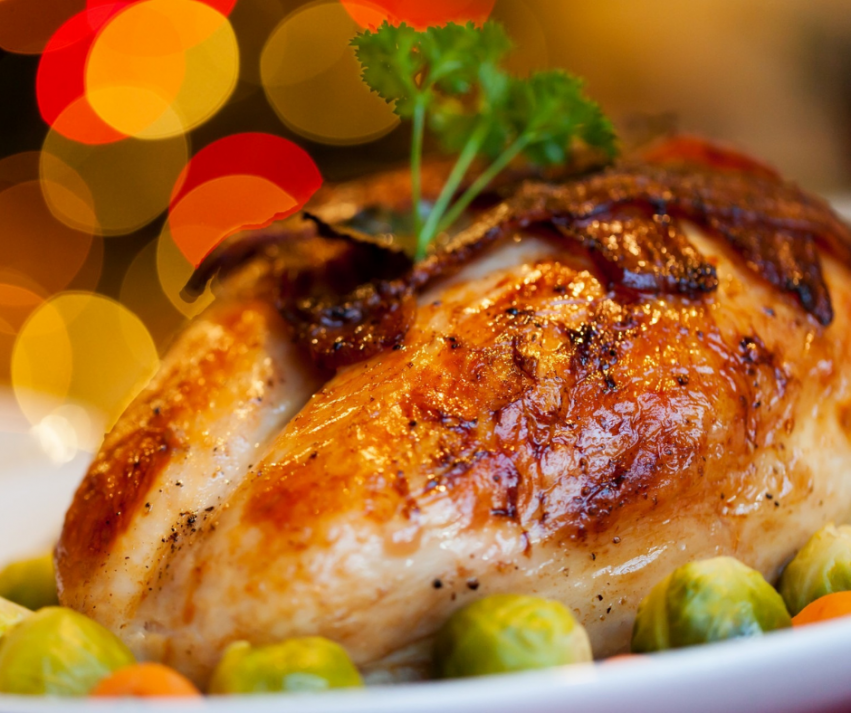 Roasted Citrus Salmon
Treat your family to a lighter take on Christmas dinner. Try serving this rich, succulent salmon fillet full of seasonal citrusy goodness, opulent enough to feel fully festive.
What You'll Need:
3 clementines, divided

1 lemon, sliced

8 sprigs thyme, plus 1 tablespoon thyme leaves

1 (3-pound) skin-on salmon fillet

1 1/2 tbsp. pure honey

1 tbsp. fennel seeds, crushed

Kosher salt and freshly ground black pepper
Directions:
Preheat your oven to 425°F. Slice one clementine and arrange it together with the lemon and thyme sprigs in the center of the baking sheet. Put your salmon on top, skin side down.

Grate zest from one clementine into a measuring cup, then squeeze in the juice from both remaining clementines/ Add honey and whisk until dissolved. Brush salmon with half of the clementine mixture, then sprinkle with fennel and thyme leaves. Season with salt and pepper. Roast 10 minutes. Finally, brush salmon with the remaining juice mixture and roast until barely opaque throughout, 12 to 15 minutes.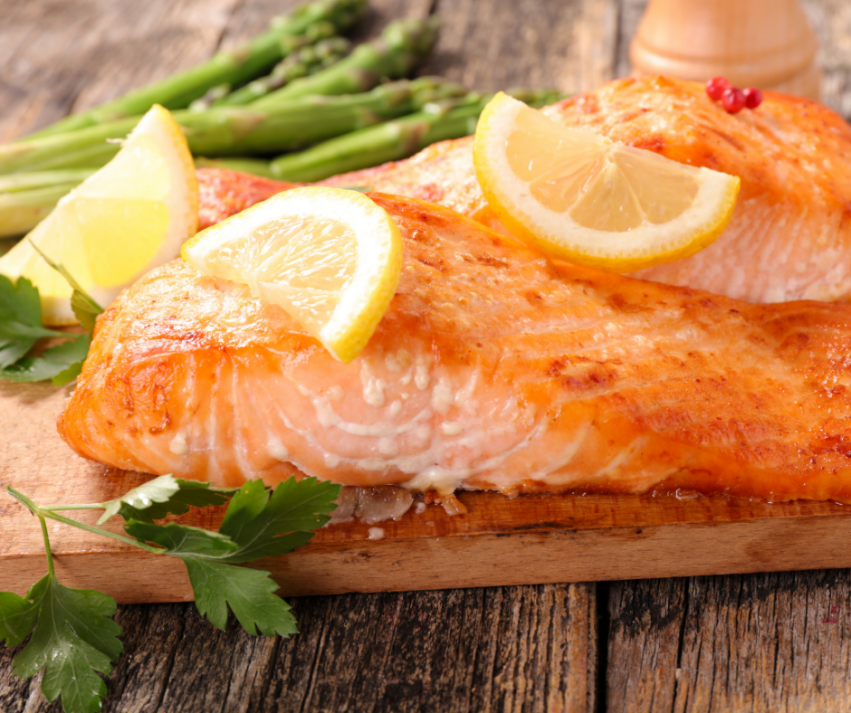 Pork Chops with Bourbon-Molasses Glaze
Take a break from the traditional ham and look into this delightful porkchop recipe! Remember, NO ONE can refuse the buttery bourbon-molasses fusion!
What You'll Need:
For the Pork Chops:
2 c. orange juice

1/2 c. packed brown sugar

1/2 c. kosher salt

8 garlic cloves, pressed

1 bunch fresh thyme

3 bay leaves

2 tbsp. peppercorns

1 cinnamon stick

6 boneless pork loin chops (3 pounds total)

2 tbsp. canola oil
For the Bourbon-Molasses Glaze:
3/4 c. molasses

1/4 c. apple cider vinegar

1 rosemary sprig

4 tbsp. cut-up unsalted butter

1/4 c. bourbon

Kosher salt and black pepper
Directions:
Bring orange juice, brown sugar, salt, garlic, thyme, bay leaves, peppercorns, cinnamon, and 6 cups water to a simmer. Remove from heat and let it cool to room temperature. Add your pork and brine for 12 hours. Remove your pork from its brine and rinse under cold water. Make sure to pat pork dry with paper towels.

Preheat the oven to 350°F and heat the oil over medium-high heat at the same time. Cook pork in batches, turning once, until golden brown. Transfer to a rimmed baking sheet and bake until the internal temperature reaches 140°F.

To make the glaze, combine molasses, apple cider vinegar, and rosemary in a small saucepan. Cook over medium heat until reduced to 2/3 cup. Whisk in unsalted butter and bourbon, and continue to cook until thickened. Season the sauce with kosher salt and pepper. Serve pork chops drizzled with the sauce.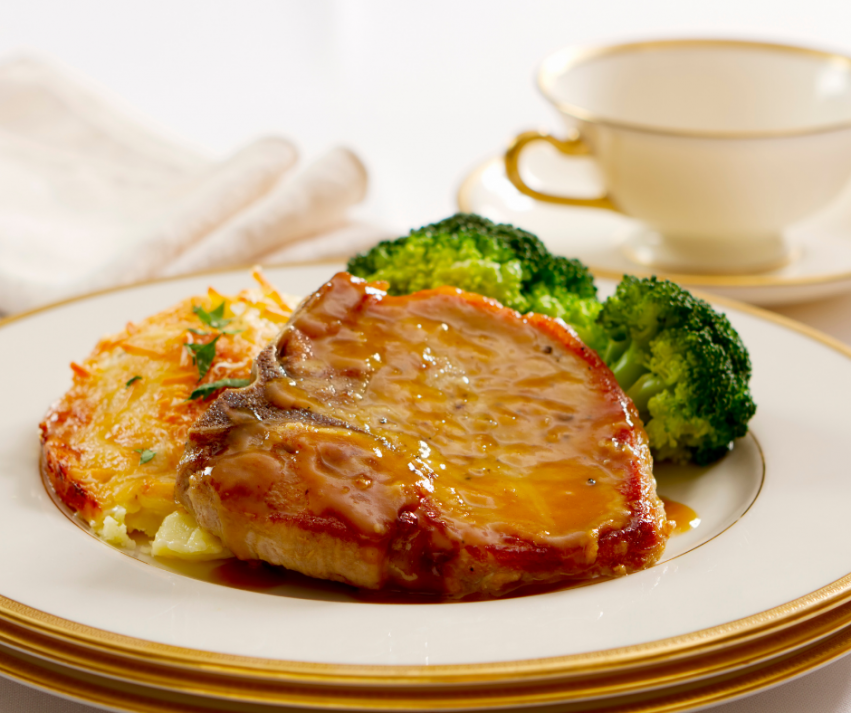 Mashed Potatoes with Horseradish and Sour Cream
An American feast is never complete without mashed potatoes, but the bright, peppery flavor of fresh horseradish takes it to a new level, for sure!
What You'll Need:
3 lb. Yukon Gold potatoes halved

Kosher salt and freshly ground black pepper

1 1/2 c. sour cream

1/4 c. prepared horseradish, squeezed of excess moisture

1/2 c. (1 stick) unsalted butter, cut into pieces

1/4 c. chopped fresh chives
Directions:
Bring your potatoes to a boil in a large pot of salted water. Let it simmer until tender, and don't forget to reserve 1/2 cup cooking liquid. Drain and return your potatoes to the pot.

Whisk together sour cream and horseradish in a bowl and season it with salt and pepper. Add six tablespoons butter to potatoes and coarsely mash. Fold in the sour cream mixture and add three tablespoons of chives. Fold in reserved cooking water to thin, if necessary. Transfer to a serving bowl and top it with two tablespoons butter and one tablespoon chives.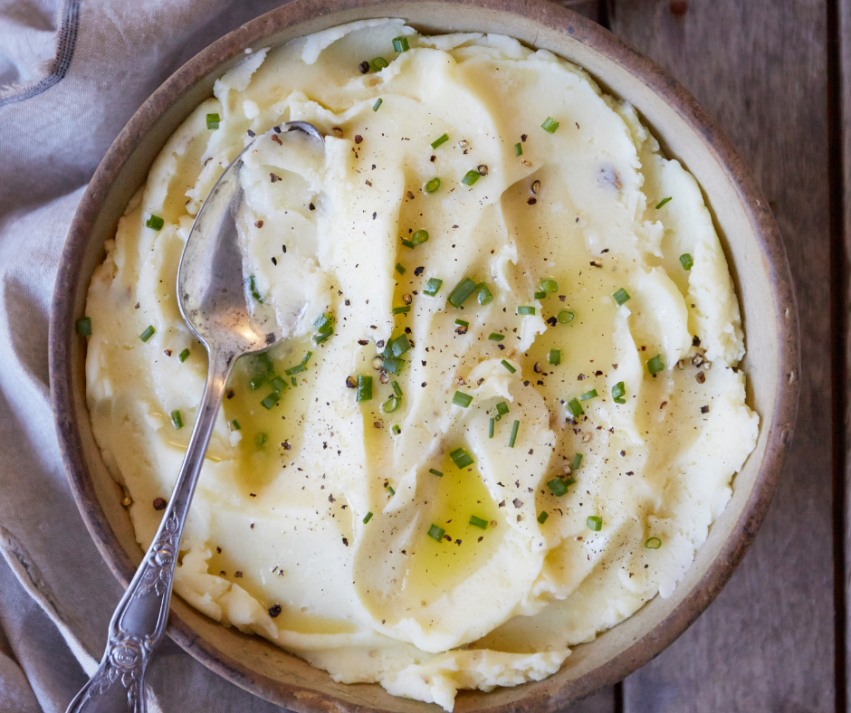 Corn Salad with Bacon and Honey
Deck your plain dish of corn out with chopped crispy bacon and a drizzle of honey, and bring your corn game up to the next level!
What You'll Need:
4 slices bacon, chopped

1 medium shallot, chopped

1 tbsp. fresh thyme

2 tsp. sherry vinegar

3 c. frozen corn, thawed

1 tsp. pure honey
Directions:
Cook your bacon over medium heat until crisp. Transfer to a paper towel-lined plate with a slotted spoon. Add shallot and thyme to the same skillet. Cook it until tender, and add the vinegar and corn. Cook it for four to five minutes. Remove the corn mixture from the heat and stir in your honey and crisp bacon.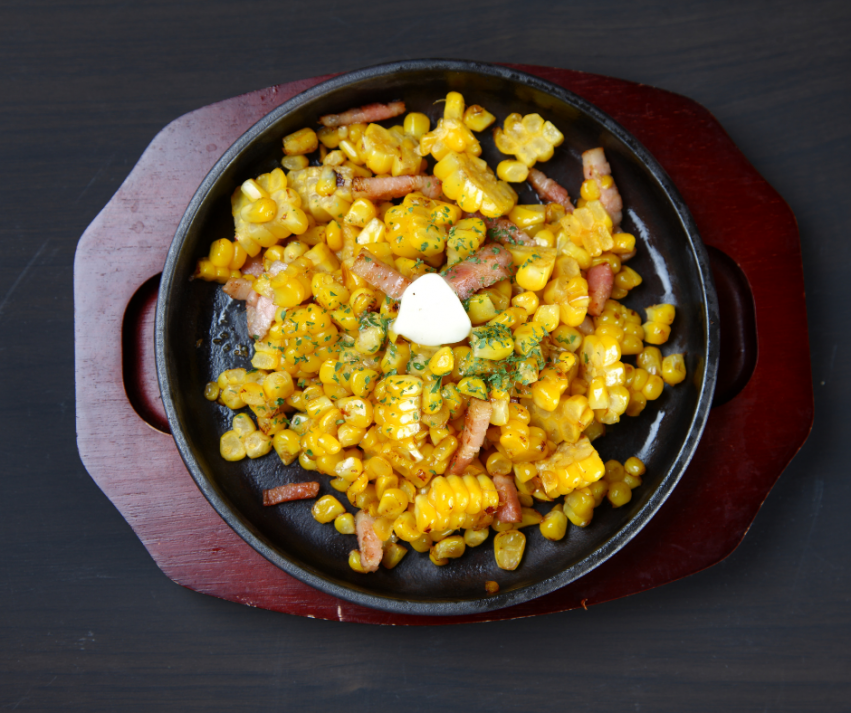 Broccoli and Cauliflower Gratin
Yes, we all need to include veggies in our dinner spread-- but loading them up with some cheesy, creamy goodness makes it ten times better, don't you think so?
What You'll Need:
4 tbsp. (1/2 stick) unsalted butter, plus more for pan

1 medium head cauliflower (about 2 pounds), cored and sliced 1/4-inch thick

1 large head broccoli (about 1 1/2 pounds), trimmed and sliced 1/4-inch thick

6 tbsp. all-purpose flour

3 c. whole milk

1/4 tsp. freshly grated nutmeg

8 oz. Gruyère, grated (about 2 cups)

Kosher salt and freshly ground black pepper
Directions:
Preheat your oven to 375°F and butter a shallow 3-quart baking dish. Arrange cauliflower and broccoli in the prepared dish.

Melt the butter in a medium saucepan over medium heat. Add the flour and stir until cooked (but don't let it darken!). Slowly whisk in the milk and let it simmer until slightly thickened. Remove from heat and stir in nutmeg and 1 1/4 cups cheese. Season it with salt and pepper. Pour over vegetables. Sprinkle with remaining 3/4 cup cheese.

Loosely cover the pan with aluminum foil and bake for 15 minutes. Remove foil and bake again until vegetables are tender and the top is golden brown. Let it stand for 10 minutes before serving.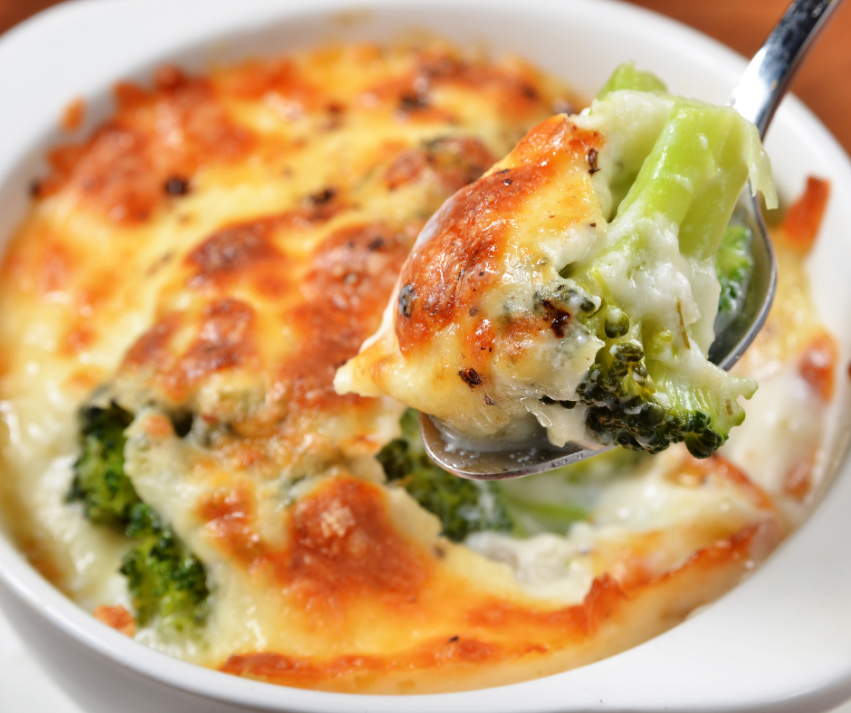 Skillet Cornbread
Imagine buttery and warm cornbread served straight from the skillet joining your Christmas spread this year. Can you already smell it? Yep, it pairs beautifully with almost any meat, too!
What You'll Need:
6 tbsp. unsalted butter, divided

1 c. all-purpose flour spooned and leveled

1 3/4 c. self-rising white cornmeal mix spooned and leveled

2 tbsp. sugar

2 1/3 c. Buttermilk

2 large eggs

1/2 tsp. Freshly ground black pepper.
Directions:
Preheat your oven to 450°F. Heat two tablespoons of butter in a 10-inch cast-iron skillet in the oven. Meanwhile, whisk together flour, cornmeal mix, and sugar in a bowl. Melt remaining four tablespoons butter. Whisk the buttermilk, eggs, and melted butter together in another bowl. Add wet ingredients to dry ingredients and stir to combine. Pour the batter into the hot pan and sprinkle with pepper. Bake until golden brown for 20 to 25 minutes. Serve warm.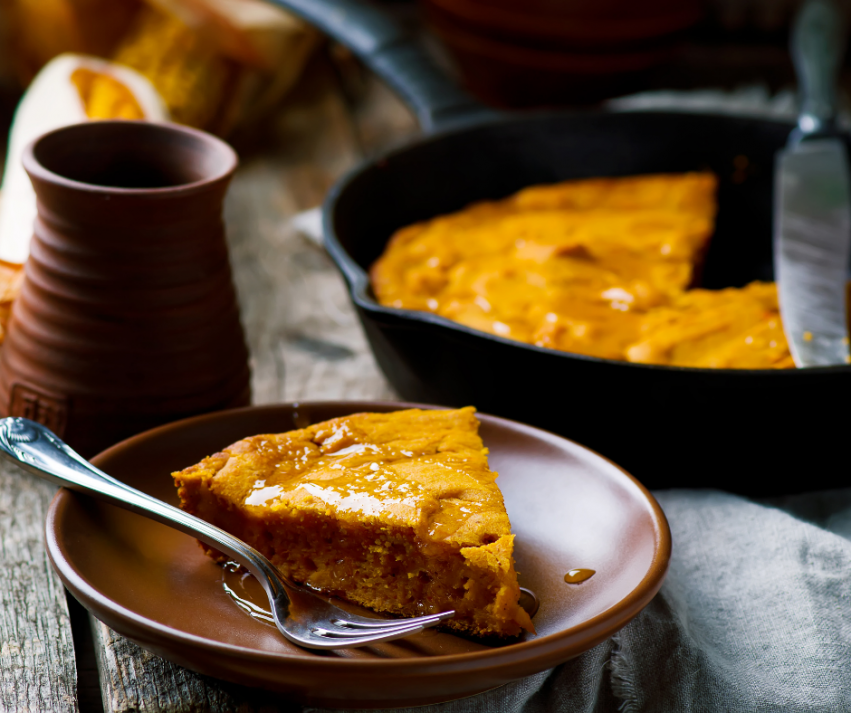 Old-Fashioned Eggnog
Christmas isn't complete without eggnog, everybody knows that! This especially old-fashioned version full of nutmeg, cinnamon, and of course, your dark liquor of choice will surely seal the deal!
What You'll Need:
1 c. heavy cream

2 tsp. pure vanilla extract

2 cinnamon sticks, broken

1/4 tsp. freshly grated nutmeg, plus more for serving

4 c. whole milk, divided

8 large eggs, separated

3/4 c. granulated sugar

Pinch of kosher salt

3/4 c. to 1 cup dark rum, bourbon, or cognac
Directions:
Combine the heavy cream, vanilla, cinnamon, nutmeg, and two cups of milk in a medium saucepan. Bring to a simmer over medium heat until tiny bubbles begin to appear around the edge of the pot (do not let it boil). Remove from heat and let it steep for 30 minutes. Meanwhile, beat egg yolks with an electric mixer on medium speed until combined. Gradually beat in sugar and salt and increase speed to high and beat until thick and very pale.

Strain the spiced cream mixture and return the liquid to the pot. Slowly beat one cup warm cream mixture into yolk mixture on low speed. Return to the pot with the cream mixture. Cook it over medium heat, stirring it constantly with a rubber spatula until the mixture coats the back of the spatula

Place the pot over a large bowl filled with ice water and let cook, stirring it occasionally until chilled. Stir in rum, bourbon, or cognac and remaining two cups milk. Before serving it, beat egg whites with an electric mixer until soft peaks form and fold into eggnog. Serve topped with grated nutmeg.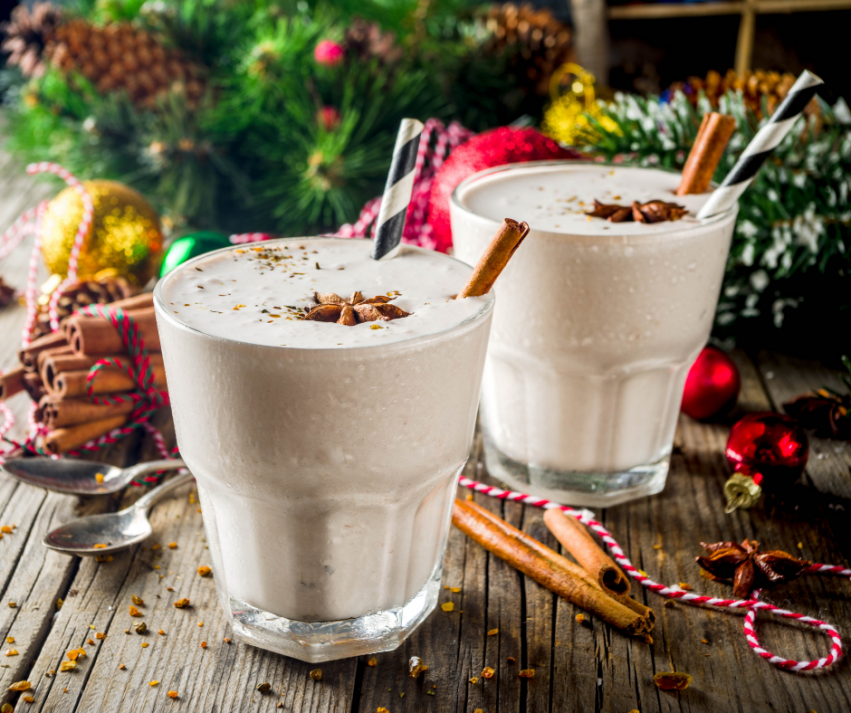 Selling Your Home?
Get your home's value - our custom reports include accurate and up to date information.
Get Home Value